Download the Fly Fusion App!
Fly Fusion Magazine is Canada's most widely read fly fishing magazine and one of the most relevant publications on the market for the angling community. This award winning fly fishing magazine combines instructional editorial with a cutting edge look and is designed to appeal to those anglers who possess a hunger to learn more about the complex nature of the quiet sport. Fly Fusion Magazine is distributed four times per year and is undeniably one of the most popular fly fishing publications available. Subscribe, pick up a copy at your local fly shop, visit the magazine's Facebook page or take a sneak peak at the digital version. Join the crowd – you'll be glad you did!
Go to the Apple Store or Google Play to download.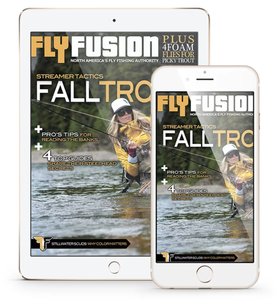 IF4™ Tickets On Sale Now!
The International Fly Fishing Film Festival consists of short and feature length films produced by professional filmmakers from all corners of the globe, showcasing the passion, lifestyle and culture of fly-fishing. The films at this popular event are capturing the attention of anglers around the world. 
Subscribe to our newsletter
Promotions, new products and sales. Directly to your inbox.